Project duration April 2022 - April 2024
---
Project Budget 494.724,73 €
---
Cofinaning EEA and Norway Grants
---
REWINNUSE project if focused on the reuse of discarded wood and alternative wood species and the development of wooden windows for complete disassembly. In cooperation with the project partners (M Sora, Biotechnical faculty of the University of Ljubljana, Norwegian Institute of Bioeconomy Research NIBIO and the Slovenian Forestry Institute), the project covers two main areas, through which we are promoting in implementing circular economy principles in the wood processing industry and beyond. The first area involves the development of a new model of wooden window with glass, which is installed only with dry components, which allows easy disassembly of the window into its basic components and their reuse after the end of its life time. Another area deals with the research of alternative wood species and the reuse of discarded wood, since spruce will become scarce in the coming decades due to the consequences of climate change according to the forecasts of global researchers.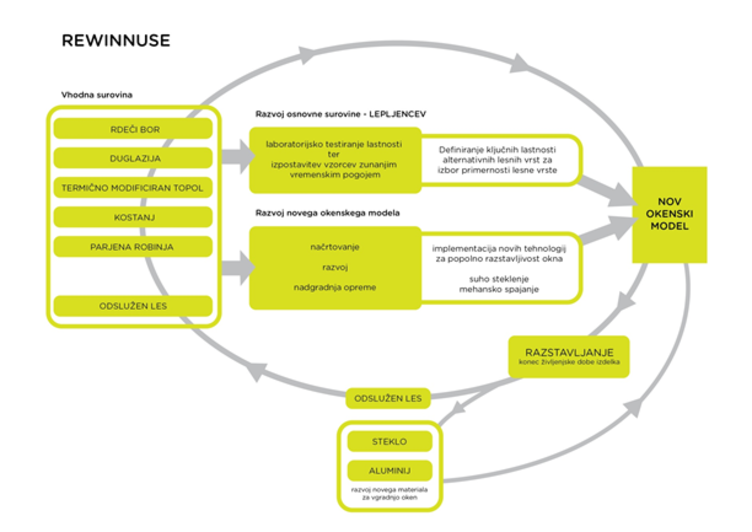 The REWINNUSE benefits from a 494.724,73 € grant from Iceland, Liechtenstein and Norway through the EEA Grants (www.eeagrants.org/www.norwaygrants.org/Norveški finančni mehanizem in Finančni mehanizem EGP 2014–2021 | Norway grants).
The aim of the project is:
reducing the consumption of materials and substances,
increasing the recyclability and reuse of materials after the end of their service life and
optimizing work processes.

Working together for a green, competitive and inclusive Europe