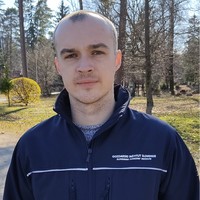 Department of Forest Yield and Silviculture
dr. Jernej Jevšenak
Curriculum vitae
Education:
2007 - 2011, first-degree Bologna study of Forestry and Renewable forest resources, Biotechnical Faculty, University of Ljubljana
2011 - 2014, Second-degree Bologna study of Forestry and Management of Forest Ecosystems, Biotechnical Faculty, University of Ljubljana
2014 - 2019, PhD in Bioscience, Managing Forest Ecosystems, University of Ljubljana
Work at foreign institutions:
2020, October 4 – 17, research work at the University of the Azores, Research Center in Biodiversity and Genetic Resources, in the scope of Short Scientific Visit (SSV), financed by European Forestry Institute
2019, September 30 – October 14, guest researcher at the Siberian Federal University (Russia) within the framework of bilateral cooperation between the Republic of Slovenia and the Russian Federation
2015, October 1 – March 30, 2016, ERASMUS Mundus JoinEU-SEE program, University of Novi Sad, Institute of Lowland Forestry and Environment
2013, March 1 – April 30, ERASMUS practical training, Albert-Ludwigs University, Freiburg (Germany)
2011, February 1 – August 31, EVS (European Voluntary Service), Naturzentrum Haus Ternell (Belgium)
2010, June 1 – June 30, Internship at the Freudenstadt Forest Administration, Germany
Bibliography:
13 original scientific articles, indexed by SCI (first author 11, co-author 2)
6 original scientific articles in domestic journals (first author 4, co-author 2)
3 professional or general articles published in domestic journals
Review Editor at Frontiers of Ecology and Evolution, section Ecophysiology (https://www.frontiersin.org/journals/ecology-and-evolution#editorial-board)
Reviewer of the international journals Dendrochronologia, Forests, Forest Ecology and Management, Science of the Total Environment
Reviewer at home journals: Wood, Slovenian professional journal for forestry
Organization of Scientific events and other Scientific activity:
Awards, grants and scholarships:
Nominee for World Scientific Federation Scholarship for the year 2021
Jesenkova Award from Biotechnical Faculty, which acknowledged my PhD as the best in 2019 from all scientific disciplines at the Biotechnical Faculty
2019 received the award for Best PhD Thesis in Tree-ring research by the Association for Tree-Ring Research (ATR)
2017 Slovenian Research Agency Award for Scientific Excellent
2014 received the Prešeren Award of the Biotechnical Faculty, University of Ljubljana for the master's thesis
Faculty of Biotechnical Award for best average grade in the for the academic years 2009/10 and 2011/12
Zois Scholarship (2008/09, 2009/10 and 2010/11 academic years)
Pahernik Scholarship (academic years 2011/12, 2013/14, 2014/15)
Scholarship of the Slovenian Academy of Sciences and Arts (SAZU) for doctoral study of mathematics and natural sciences (academic year 2015/16)
Selected to co-finance a PhD program under the Generation 2016 Call (Ministry of Education, Science and Sport)
Additional education:
International Summer School OpenGeoHub, DataFairNess, 17-21/8/2020, Wageningen, Netherlands
Participation in the International Summer DataFairNess, 17-21/8/2020, Lecce, Italy
Attendance at the Bayesian Modeling International Summer School, 24-29/9/2017, Lygra, Norway
Participation in the International Summer School Advanced statistics and data mining summer school, 28/6/ - 03/07/2015, Faculty of Engineering Madrid, School of Computer Science, Madrid, Spain
Participation in the International Summer School of Modeling in R and Modeling Soil Processes, 6-10/7/2015, Pokljuka, Slovenia (BioLink COST Action FP1305)
Participation in the International Summer School Tree Rings, Climate, Natural Resources and Human Interaction, 5-19/8/2013, Abakan, Russia
Completed 80 online programming courses in R and Python on the DataCamp online platform (https://www.datacamp.com/profile/jernejjevsenak)
Participation in international conferences:
Oral presentation at 36th Slovenian Forest Study Days, 26. 11. 2020
Poster presentation TRACE Conference 2019, Caserta, Italy
29th European Dendroecological Fieldweek, 9–16/9/2018, Lonjsko polje, Croatia
Oral presentation WorldDendro 2018, Thimphu, Buthan
Oral presentation TRACE Conference 2018, Greifswald, Germany
Key Publications:
Jevšenak*, J. 2019. Daily climate data reveal stronger climate-growth relationships for an extended European tree-ring network. Quaternary Science Reviews 221, e105868.
Jevšenak, J., Skudnik*, M. 2020. A random forest model for basal area increment predictions from national forest inventory data. Forest Ecology and Management, accepted manuscript.
Jevšenak, J., Levanič*, T., 2018. dendroTools: R package for studying linear and nonlinear responses between tree-rings and daily environmental data, Dendrochronologia 48, 32−39.
Jevšenak, J., Džeroski, S., Zavadlav, S., Levanič*, T., 2018. A machine learning approach to analyzing the relationship between temperatures and multi-proxy tree-ring records, Tree-Ring Res. 74, 210-224.
Jevšenak, J., Levanič*, T., 2016. Should artificial neural networks replace linear models in tree ring based climate reconstructions? Dendrochronologia 40, 102−109.